Collectable Cards
---
Collectable cards, 1995 printing
Table of Contents: See also:
---
The cards themselves come in a purple foil package with black and gold ink.
The front has:
Premiere Edition
Fleer Ultra
ReBoot
Computer Generated Images
8 cards

The back says:
ReBoot (tm) & © 1995 Mainframe Joint Venture

Produced and distributed exclusively by
Fleer Entertainment, Mt. Laurel, NJ 08054.
Made & printed in the USA.
Distributed in Canada by Fleer Ltd./Ltee.

Collect the following limited-edition insert cards:
10 Chromium cards, approximately 1:6 packs.
10 Suspended Animation cards, approximately 1:6 packs.
5 Holoblast cards, approximately 1:9 packs.
No guaranteed number of limited-edition cards per box.

With these odds, 5 of every 9 packs have 8 plain cards, and 4 out of 9 packs will have 7 plain and 1 special card.

The cards are available at comic book stores and shops carrying baseball cards. Also carried in some Target and K-Mart stores.
---
The promotional card that was included in WIZARDS Guide To Comics #44 (Apr-95) has "Dot Patrol" on the front. The back has:
The Mega-Hit of Saturday Morning TV in a Mega-Hot Card Set!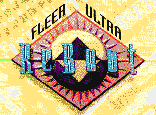 150-Card Series, Plus 25 Chase Cards.
Computer Generated Images
Terminally Cool Holograms
High-Tech Suspended Animation
Totally Tubular Chromium Cards
ReBoot (tm) & © 1994
Mainframe Joint Venture

Also included in this magazine (WIZARDS Guide To Comics #44, Apr-95) was a two-page centerfold. One side was a continuation of the magazine's front cover - featuring the girls from "Gen 13". The other side has the cast of ReBoot. (1024x600 JPEG, 123K)

[Author's note: This was scanned in two passes with a 5-inch hand scanner. That explains the subtle discontinuity going across the middle of the image.]

---
Pages 107-110 of WIZARDS Guide To Comics #44 (Apr-95)
(page 107)
ReBoot Premiere Edition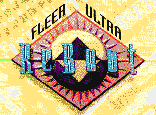 Fleer Ultra "ReBoot"
Computer Generated Imagery
High-Tech Special Effects
Terminally Cool Characters
(pictures of #4: "Megabyte", #120: "Glitch Cutter", and #84: "Dot Patrol".)
---
(page 108)
Computer Generated Imagery,
high-tech stories, and state-of-the-art chase cards compile to make Fleer Ultra Reboot March 1995's hottest set!

The Megahit of Saturday Morning!

The ReBoot animated series is taking Saturday morning by storm. Airing at 8:30 AM EDT/PDT on ABC, its tearing up the competition. Taking today's technology to the limits, ReBoot is displayed exclusively in CGI -- Computer Generated Imagery. A visually captivating combination of computer graphics, software lingo and ping-zing action, ReBoot is a hit with kids and teens. This high-energy ground breaker is just the right format to make ReBoot a number one hit with trading card collectors.
(pictures of #19: "Bob Wants You", #52: "Enzo Reboots")
---
(page 109)
Fleer: An Icon in Cards!
Continuing a long line of successful card sets such as Fleer Ultra X-Men '94, Marvel Cards Spider-Man, '94 Flair Marvel Universe, and '94 Marvel Masterpieces, Fleer logs on in March 1995 with Fleer Ultra ReBoot.
THIS 150 CARD SET FEATURES:
Exclusive computer-generated images.
Gold foil Stamping
UV coating
MEGAHOT CHASE CARDS!
Three state-of-the-art limited-edition chase card sets featuring:
HOLOBLAST Terminally cool cards featuring computer-generated images joined with three-dimensional holograms.
CHROMIUM Totally tubular chromium cards featuring the heroes and villains of Mainframe!
SUSPENDED ANIMATION High-tech images of Mainframe's key characters.
(pictures of #119: "Megabyte's Grasp" and #1: "Dot Matrix".)
(The pictures on this page and the next are mislabelled; "Compu Boss" is the one with Dot wearing glasses.)
---
(page 110)
(pictures of #5: "Hexadecimal" and #42: "Compu Boss".)
Fleer Ultra Reboot - Checklist
Note:

The checklist published in the magazine is wrong. The list of images changed between the time the ad was created and when the cards came out. Most of the names printed there did not make the final cut. The only things right in the magazine's checklist are the "KEY PLAYERS" (cards 1 through 9 and a half) and the description of the special cards (HOLOBLAST, CHROMIUM, and SUSPENDED ANIMATION).
See Joe's checklist or Steve's checklist for a full list.

Wayne Farmer (WayneOHere@compuserve.com) informs me there is an 8.5" x 11" promo sheet for the Reboot cards with pictures of 9 cards:
#1. Dot Matrix (with sign to Dot's Diner in background)
#5. Hexadecimal (in front of an arch, looking fierce)
#6. Frisket (the dog)
#42. Compu-Boss (Dot wearing glasses, at the bar in the Diner)
#84. Dot Patrol (Dot carrying two big guns)
#52. Enzo Reboots (pressing icon on his cap, red bar in background)
#119. Megabyte's Grasp (MB holding Enzo, demanding his magnet back)
#120. Glitch Cutter (Glitch turning into a cutter)
#???. Dragon Chase (Bob in golden armor with bronze sword and bronze shield; he's standing, facing front, watching the head of a large-horned dragon.)
"Dragon Chase" does not appear part of the set any more. This closest I've seen is #78. "Battle to the Bone", #81. "Armor Clad Bob", and #C7. "Sir Bob". The labels to "Dot Matrix" and "Compu Boss" were switched; they printed wrong in the promo.

the complete checklist

---



page 108 of 129


Maintained by Joe Smith