Animation Magazine-The Animation Authority. September 1997, pages 14-16 and 72.
---

This issue of www.animag.com Animation Magazine was passed out at SIGgraph in Los Angeles, August 5-7, 1997. A private screening of two episodes from Season III was held at the Hollywood Athletic Club. About 100 animators showed up; Mainframe is actively hiring.

    Animation Magazine
    Volume 11, Issue 8, #59, September 1997
    Front cover: AndrAIa
    Cover article: "Mainframe ReBoots 3D Heroes" / "ReBoot Renaissance"
    
    Published monthly by:
    	Animation Magazine
    	3010 Agoura Court, Suite 110
    	Agoura Hills, CA 91301-4301
    To advertise, call 1-818-991-2884.
    e-mail: animag@AOL.com
    Website: www.animag.com (online since July 1998)
    
    Subscription rates:
                   US =   $45 for 12 issues,    $84 for 24 issues
    Mexico and Canada = US$65 for 12 issues, US$130 for 24 issues
     Foreign air mail = US$80 for 12 issues, US$150 for 24 issues
    Voice: 1-800-996-TOON (8666), Fax: 1-818-991-3773

Temporary Page
This is a temporary page. It will be removed when the web site for Animation Magazine has an archive of past articles. Please visit their site, www.animag.com for the latest info.

Their old web site still has this ReBoot article stored as three separate PDF documents: page-1.pdf, page-2.pdf and page-3.pdf. Note: Those PDF files have black and white images instead of the color you see here. The title and by-line are very difficult to read (black on black), and there is no p4.pdf for the "continued on page 72" text.
---
Mainframe Entertainment Inc.'s pioneering computer-rendered series 'ReBoot' returns with a new maturity, as both the characters -- and the technology that created them -- grow up. In 1994, animation history was made with the airing of the first completely computer-animated half-hour television series, ReBoot. The show immediatedly captured the imagination of young viewers in some 60 countries around the world and garnered an impressing number of awards along the way. Now ReBoot is returning to TV screens for its third season.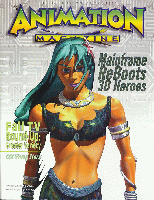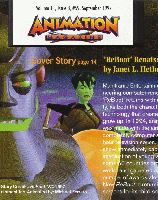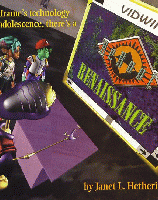 As Mainframe's technology reaches adolescence, there's a
'ReBoot' Renaissance
by Janet L. Hetherington
In 1994, animation history was made with the airing of the first completely computer-animated half-hour television series, ReBoot. The show immediately captured the imagination of young viewers in some 60 countries around the world, and garnered an impressive number of awards along the way.
Now ReBoot is returning to TV screens for its third season, broadcasting in July in the United Kingdom (Meridian-ITV) and in August in Canada (YTV) and in September (maybe) in the United States. But viewers are sure to notice something different about the show, In the vernacular of the computer technology that fashioned them, Bob, Dot, Enzo, Megabyte, Hexadecimal and the other inhabitants of the computer world of Mainframe have all been given a "reboot."
"We've remodeled all of our characters," affirms Mairi Welman, director of communications for Mainframe Entertainment Inc. of Vancouver, Canada, that produces ReBoot. "There is far more of a 3D effect, and they're amazingly life-like. You'll see subtle details now, like eyelashes. People will still recognize all of the characters, but they've evolved, just as the animation software we're using has evolved"
SIZABLE GRIN
ReBoot's dramatic new look is courtesy of some exciting developments in Mainframe's software programs of choice - a combination of Softimage 3D and Mainframe's own proprietary software programs. One nifty enhancement is a modified version of a proprietary program called GRIN, which allows the animator to quickly and realistically synchronize the animated characters' facial expressions with the dialogue.

"Softimage is still the fastest, and probably the best commercial package out there for animating characters," says Phil Peterson, software developer for Mainframe. In yet another enhancement, Mainframe has been able to extend existing system capabilities by adopting Mental Ray for rendering. Because Mental Ray provides orthogonal view rendering, enabling distortion-free texture maps to be created, Mainframe has been able to produce material for such new clients as IMAX Ridefilms. The view-rendering feature was "particularly crucial to producing the Ridefilm, which uses a curved screen," says Peterson. To date, Mainframe has completed one IMAX Ridefilm featuring ReBoot, set to make its debut this fall, and is working on a second IMAX project.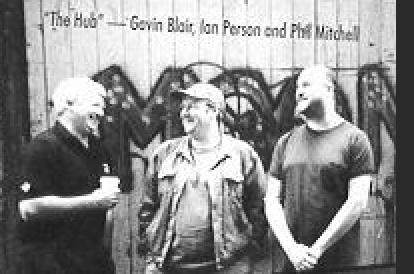 PIONEERING SPIRIT
With all of these advances, it's amazing to consider that not all that long ago, a computer-generated imagery (CG I) show like ReBoot would have been impossible to produce at all - much less as a weekly television series. When Mainframe first created ReBoot, the company was venturing into virtually uncharted territory. But Mainframe has adapted and learned as it has gone along, and the production process has been constantly refined during work on shows like ReBoot and Beast Wars.

"We've developed Mainframe into a truely world class facility," says President and CEO Christopher Brough. "We have gone where no other digital animation firm has dared to 90 into weekly TV. And we've taken on all the challenges that producing 100 percent CGI for that medium entails"

"ReBoot has created an entirely new production method for television:" comments Andrew "Spanky" Grant, senior animator for Mainframe. "As each episode was completed,we realized how the method could be changed to make the process more efficient. This allowed us to produce 26 episodes of Beast Wars in just over a year. That's a lot of CGI footage!"

Currently, the animation software is run on over 100 UNIX-based Silicon Graphics workstations.
And Mainframe is hiring. The company, which bought out partner Alliance Communications Corporation, went public [ticker symbol: MFE] in early June on the Toronto Stock Exchange (TSE), and Mainframe is expanding its workforce in anticipation of more television projects, feature films and Ridefilms. "We're looking for software developers, animators, modelers and technical directors to come to our facility in Vancouver:" advises Welman. "Vancouver is a medium-sized city of 2 million people, and it's very green and lush. It's friendly, non-violent and there's plenty of outdoor recreation. We're finding that once people come on board, they don't want to leave."
"Stepping back from my job and realizing what I do for a living keeps me m otivated," observes Grant. "It's not usually a 9-to-5 job, but what other job can you do where you let your imagination run wild, create new worlds, stay in touch with the child in yourself, not wear a suit and get paid for it?"
Welman adds that Mainframe, already 200 strong, offers animators a pleasant, stimulating environment in which to work - and play. "There are always lots of smiles," she says. "After hours, we play hockey, softball and enjoy other group activities. During the day, animators work on a variety of projects, and have a lot of creative input"
PLUM PROJECTS
Indeed, animation professionals joining the Mainframe team could work on any one of several plum projects (with more currently in negotiation), including:
The Sign of the Seahorse: Mainframe is working on a feature film development deal with Paul Allan's Storyopolis to bring the best-selling children's book, The Sign of the Seahorse, to the big screen. "It's going to be fully animated, and our CG technique really lends itself to [Seahorse creator] Graeme Base's illustrative style:" notes Mairi Welman.

Countdown to Chaos: Mainframe is working with Electronic Arts to produce a cornputer game based on the ReBoot property, called Countdown to Chaos. The game will be launched worldwide this fall.

Closing Time: Closing Time is the working title for a co-development 2D/3D TV series project Mainframe is pursuing with DeCode of Canada and Milliseme of France.

IMAX Ridefilms: Mainframe has already produced one Ridefilm based on ReBoot for IMAX's new motion platform; a second IMAX Ridefilm is due for delivery later this year.

Beast Wars (Beasties in Canada): Mainframe has begun production on 13 new halfhour episodes of Beast Wars, continuing the chronicles of an epic struggle between two warring factions of highly-evolved robotic beings. Beast Wars was the top-ranked show for boys aged 6-1 1 in the US and Canada last season. The show is currently in repeats in both countries.

ReBoot: Mainframe's flagship show sports a new attitude as well as a new look. Originally geared toward a much younger audienge, ReBoot now features more action and adventure, and is aimed toward children aged 12 years and up. "Creatively, we're taking the show where it originally intended to go:" says Mainframe's Welman. "It's more grown-up and slightly darker." Welman also notes that while ReBoot's third season picks up where the second one left off, the new episodes comprise a 16-part story arc with a continuing storyline that wraps up at the end. "You want to keep watching to find out what happens," Welman says.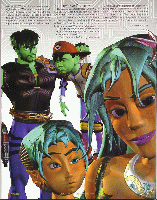 YESTERDAY AND TOMORROW
Since its debut in September 1994, ReBoot has been awarded two consecutive Gemini Awards for 1995 and 1996 for Best Animated Series, the 1996 Outstanding Technical Achievement Award, as well as a 1996 Aurora Award for Canadian achievement in science fiction and fantasy. ReBoot has also been honored with the 1995 Award of Excellence, Best Animated Program, from the Alliance for Children and Television.

The concept for ReBoot originated some 10 years ago in England as "The Hub": John Grace, Ian Pearsont Gavin Blair and Phil Mitchell Pearson and Blair created the groundbreaking CGI-animated music video, Money for Nothinq, for Dire Straits; Mitchell is known for

[continued on page 72]

his award-winning commercials. Then, Pearson, Blair and Mitchell moved to Vancouver to oversee the development of ReBoot. Interestingly enough, the show was originally set inside a computer because of the limitations of computer animation software at that time.

"When we first discussed creating a series that was entirely animated by computer, the technology was in its infancy. We decided to set the characters inside of a computer so that we could get away with looking "blocky" and moving with a mechanical motion," comments ReBoot Co-creator Ian Pearson.

Today, thanks to the ever-evolving technology of CGI and the animators who explore its possibilities, the ReBoot characters are quite nicely well-rounded - in personality, appearance and movement. In fact, it is the realistic three-dimensional quality of the computer-generated characters that makes ReBoo(s animation unique. However, Mainframe Entertainment Inc. refuses to rest on its laurels, preferring instead to continue to pioneer.
"Mainframe is pushing the envelope with new technology and a new kind of art:" Mainframe's Brough says. "We keep raising the bar for our competitors. And if success in audience ratings are anything to go by, computer animation for TV and film is here to stay."

| Invitation | Front Cover | Table of Contents | Title Picture | Trust No One | Old and New |
Janet L. Hetherington, a 1997 Aurora Award nominee, is a freelance journalist and creator of the Eternal Romance comic book. She frequently contributes to Animation Magazine.
---




page 4 of 129


Maintained by Joe Smith